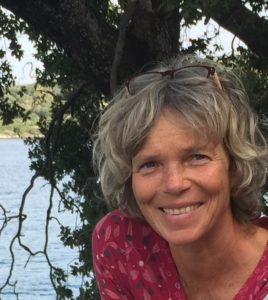 Mental health has been my life long vocation. My first job was with Oxford MIND and I spent 7 years as a CBT therapist and counsellor in the NHS, and 3 years supporting mental health in homelessness services.  After many other trainings I qualified as an integrative transpersonal counsellor at Re-Vision (Counselling and Psychotherapy with a Soulful Perspective) in 2017.  I also have a certificate in Evidence-based Psychological Practice from the University of Exeter (2014).
Background
I was raised in Norway and England and grew up speaking both languages. This led to a curiosity about questions of identity, belonging, language, reality, meaning and the soul. I studied psychology and philosophy at university and went on to work in mental health in the charity sector and the NHS in North Somerset and Bristol. 
Orientation
Psychotherapy in its original Greek means 'care of the soul'. 'What is soul?' you may ask. Soul is about the search for meaning.  Working in a soulful way means giving a place to the search for meaning and purpose. We often feel ashamed of the symptoms of psychological distress. What if we thought of our dysfunctions – our fears, our addictions, our psychological problems – as our soul trying to find meaning in its suffering?  Perhaps it would be a kinder way of thinking about ourselves, and a more fruitful one. Perhaps we could see it as our soul trying to find its way in the world. When I stumbled across Re-Vision in London I knew I had found the right place to learn the craft of counselling and psychotherapy. Re-Vision training is integrative and transpersonal. See My approach to find out what this means in practice.
Experience
My working life has primarily been in mental health, but I have also been a manager in a charity, taught Norwegian as a second language, worked in a sea food delicatessen, been a tour guide, a cleaner, and spent time learning to paint. I worked for seven years in the NHS in North Somerset as a counsellor and CBT therapist, seeing individuals and groups for help with anxiety, depression, stress, bereavement, physical and mental disability, issues with communication, self esteem and managing emotions.  
More recently I have been supporting staff and residents in a hostel for homeless men with complex needs in Bristol, supporting those suffering from the aftermath of physical abuse, sexual violence, warfare, cultural displacement, addiction etc. 
Work
Reflective Practice Manager at Places for People hostel for homeless men with complex needs in Bristol.

Counsellor at Oasis Talk, NHS Bristol.

Senior Psychological Wellbeing Practitioner at Positive Step, NHS North Somerset IAPT service.

Employee wellbeing support for international haulage company

Regional manager of 'SITRA', a housing care and support consultancy

Psychiatric nursing assistant

MIND day centre worker
Qualifications
Integrative Transpersonal Counselling – Diploma, Re-Vision 2017

Evidence-based Psychological Practice – Postgraduate Certificate, Exeter University 2014

Counselling skills – Postgraduate Certificate, University of Wales Newport 2011

Occupational Psychology – MSc,  Birkbeck College London 2004

Psychology & Philosophy – BA(Hons), Oxford University 1986