I offer therapy from a dedicated therapy room at my home in Portishead, North Somerset BS20.  The space is tranquil and private with views over the Lake Grounds across the sea to Wales. It can be helpful to take some time after sessions for reflection and there are pleasant walks along the coast and nearby benches in the Lake Grounds.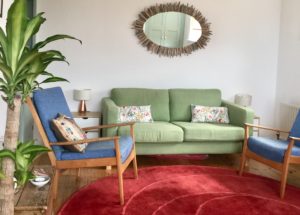 Getting here
By car:  Portishead is close to the M5 and by car it is an easy journey from Bristol, about 15-20 minute drive from the centre.  There is off road parking on site. 
By bicycle:  Cycling from Bristol takes about 45-50 minutes and there is safe bicycle storage.  
By bus:  Buses from and to Bristol stop a 5-10 minute walk away.  Below are some links to local bus timetables for more information:
What happens next
Your initial appointment is an opportunity for both of us to get a sense of how it would be to work together. The aim is also to arrive at a shared understanding of the difficulties that bring you to counselling and what you are hoping to change. You are never under any obligation to continue with me and if I feel that I am not best placed to help I will hope to signpost you to a more appropriate service. If you do decide to work with me I usually suggest committing to a short number of agreed sessions and then review progress.
Online sessions
Online sessions are an option if for any reason you cannot make it here.
For more information about local psychological therapy services please click on the following link: